Vacuum Brazed Diamond Tools
Views: 5 Author: Site Editor Publish Time: 2019-12-02 Origin: Site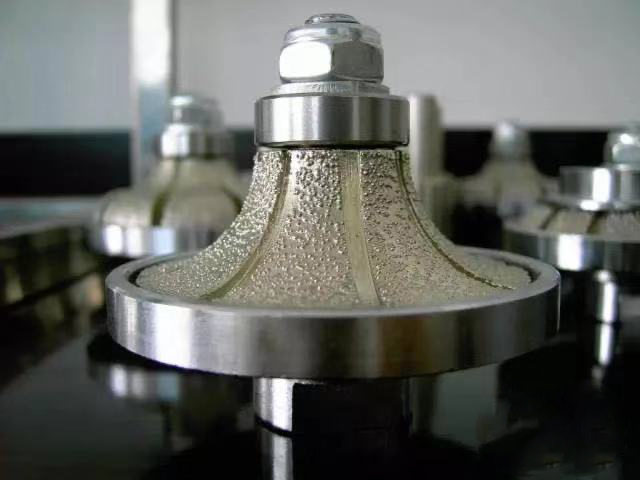 Smooth - a single layer of diamond provide clean results

Universal - can be used on a wide range of materials - no specific bond required for materials

Durable - a strong bond is made through the brazing process extending the life of the tool

Speed - exposed diamond on the cutting edges for fast working

Cost effective - lower production costs than other tooling providing great value
One of the key benefits of vacuum brazing is that production costs are lower than other methods of producing diamond tools. This means that the brazed tools we offer provide customers good value per meter of material being worked. The tools can also be produced for many different applications - the steel bodies can be manufactured in a range of sizes and shapes and the diamonds brazed directly into place.
---
Vaccum Brazed Tooling for Stoneworking
1. Vacuum Brazed Straight Routers
Straight routers are usually produced with electroplated or sintered diamond. However, vacuum brazed routers offer fast cutting ability with a excellent tool life. They are suited for marble and limestone working, they are very popular with architectural masons.
2. Vacuum Brazed Core Drills
Vacuum Brazed Core Drills are a useful tool for work surface fabricators, tilers, and cladding teams. Because they cut faster than sintered core drills, users are more likely to achieve a cleaner chip-free cut.
3. Vacuum Brazed Cutting Blades
Vacuum brazed blades are useful for masons who are cutting varied materials, or masons who are working exclusively with hard limestones or medium hardness marbles. The exposed diamond on the cutting edge ensure as fast clean cut. Users will find that these blades cut just as effectively as electroplated blades but last much longer.
4. Vacuum Brazed Angle Grinder Profiles
These angle grinder profiles are coated with vacuum brazed diamond. They are fast working and can be used with a water fed machine for extra durability.